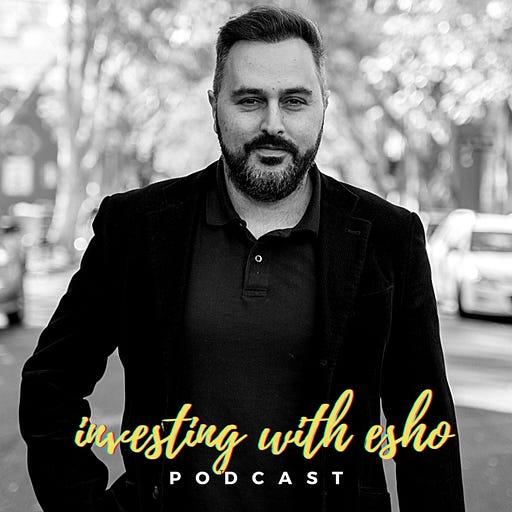 Jul 5, 2022 • 15M
Latest on Australian interest rates and property market outlook 2023
I'm Peter Esho and I publish podcasts here about socialy responsible investing. You can get my weekly notes at peteresho.com Socially responsible and ethical investing is area I'm increasingly facinated with, combining my passion for investing with my desire to also help make the world a better place for my children and their children. My goal is for you to take away weekly snippets from lessons I'm learning across impact and ethical investing.
I sat down with Dom Nesci today to just after the RBA's interset rate decision in a Tiktok live session. We recorded and uploaded the audio version here for you to tune into.
As discussed in the chat, today's 50bpts was in line with expectations and with quarterly inflation numbers out this month, there is a case for more rises coming in July and August. We're of the view that the cash rate will rise to around 2-2.25% by the end of the year. 
The big untold story here though is what's happening in the United States where 10 year bond yields fell well below 3% on Friday. This is well off the peak level in the mid 3% range. It implies growth expectations are falling. We're not surprised. 
Bottom line: We think a recession is on the cards towards the end of this year. The RBA continues to point to external factors as drivers for its decision. It's now using the word "extraordinary" to describe the rate setting we've had over the past few years. 
But it also admits that medium term inflation isn't a problem, which means that a short and sharp recession is the most likely outcome in the near term. At that point, the RBA will halt and probably sit at the 1.5-2.5% cash rate level for a few years to come.