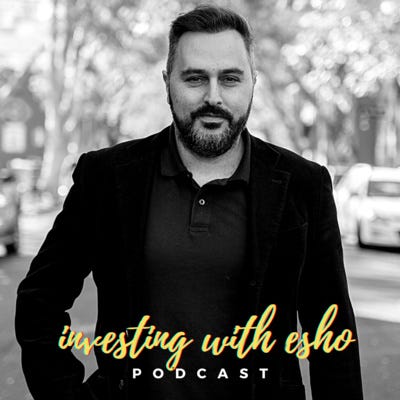 Feb 2, 2022 • 31M
How to manage your investments in 2022
I'm Peter Esho and I publish podcasts here about socialy responsible investing. You can get my weekly notes at peteresho.com Socially responsible and ethical investing is area I'm increasingly facinated with, combining my passion for investing with my desire to also help make the world a better place for my children and their children. My goal is for you to take away weekly snippets from lessons I'm learning across impact and ethical investing.
I recently sat down with my business partner Dom Nesci last week to record the first episode of Wealthi's 2022 podcast series. We spoke about a range of topics including something I'm watching very closely this year which is how things adjust to a rising interest rate environment.
I've decided to connect our podcast into this newsletter format to make it easier for you to tune in and listen whenever we publish something together.
Our chat was centred on recent talk of rising rates in both Australia and the United States. Rising rates are both an opportunity and a threat. It's important to be on the right side of the fence. I discussed the difference between investors and owner occupiers in a rising rate environment in the note below. Worth a read if you haven't already.
It's also great to see that some of the themes I wrote about late last year are starting to play out as expected. I'm particularly watching oil prices flirt with new highs and the resilience in carbon prices, which to date, are still hanging in there very strong. If you missed my commodities outlook for this year, its worth another read.
I hope the new year has been kind to you and I'm really excited about sharing more insights with you in this new format throughout the year. If you haven't already, I encouage you to sign up to get updates delivered to you each time they are posted.